Traffic Cone Basics
Traffic cones (also called road cones, pylons or pylon cones, safety cones or construction cones) are used to provide advance warning of safety hazards and redirect traffic. When purchasing traffic cones or other channelizers it is important to be informed of safety standards in your areas so that you are meeting the appropriate guidelines. We outline some basic guidelines below and a link to the MUTCD online manual.
4 - 6" Cones
These shorter cones are used in athletic events, obstacles courses, and games.
12" Traffic Cone
Used for indoor and outdoor applications. Indoors you may see these cones used in areas like work areas in a building or slippery floors. Outdoors these cones are most often used in parking lots.
18" Traffic Cone
18 inches is the minimum height required for street usage. These cones are typically used outdoors in street work areas, like line painting or other areas needing delineation.
28" Traffic Cone, 7lb
These cones are more appropriate for non-highway applications that may include street construction areas. Traffic cones of this size and weight are sometimes called 'metro cones'.
28" Traffic Cone, 10lb
28 inches is the minimum height required for freeway and highway applications and the 10 lb base makes them more stable. Highway cones must include reflective striping.
36" Traffic Cone, 10lb
Also used in freeway and highway applications and again should include reflective striping.
MUTCD Traffic Cones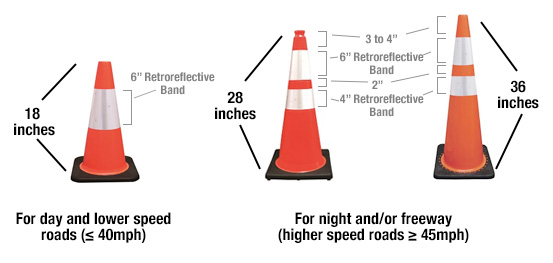 For more detailed safety specifications: MUTCD Online Manual: See Section 6F.59 Cones

Traffic Cone Colors
| | | | |
| --- | --- | --- | --- |
| Orange Traffic Cones | Lime Green Traffic Cones | Blue Traffic Cones | Colored Traffic Cones |
| For many years fluorescent orange cones have been the safety standsard for construction sites and other areas needing traffic control. They typically have reflective sheeting applied to help increase visibility, especially at night. | These high fluoresecent color cones are an adaptation from the typical orange cones. They are very visible in both day and night and great for construcion and areas needing traffic control. Some areas will use them to alert that there are utility lines overhead or to mark entrances to areas where pedestrians and motorists need to be more alert. | Blue cones are not approved in all states for construction and road safety designation so you will want to check with your state before using blue cones in higher traffic areas. They are most often used in parking lots and on private property. They they are also used to mark accessible parking areas. | Special colored cones are most often used for private property markers, athletic and kids events. Different color cones have come to be associated with different meanings although they are often used interchangeably. For instance it is common to see white cones used by valet services and bright red cones for areas with more danger like high alert areas in the oil industry or slippery areas in schools and warehouses. |

Flow Molded Cones vs Injection Molded Cones

Flow molded cones are made from a solid piece of PVC plastic with no visible seam. They are lighter and feel softer with a body that is more flexible. They tend to be more economical than injection-molded cones. Their lighter weight makes them easier to carry and they are stackable. They are perfect for a wide range of indoor and outdoor applications.

Injection molded cones are the toughest, made of durable recycled plastic. They are made up of two-pieces with an interlocking base. They are typically heavier than their flow molded counterparts. Traffic Safety Warehouse's injection molded cones have different base weights to choose from and they all have extra road grip.
Why TSW is Where to Buy Traffic Cones:
We provide the best line of traffic cone and traffic barricade products
Extremely competitively priced
PVC Injection molded plastic makes our cones very durable and long lasting
NCHRP-350/MASH Accepted
Meets MUTCD Standards
Maximum day and night visibility
Large selection of colors and sizes
Strength and flexibility help them retain their shape even when hit by a vehicle
AND all our traffic cones are backed by our top level customer service to make sure you are completely satisfied with your purchase.
Traffic Cone Colors: Our cones are available in fluorescent orange, yellow (lime green), blue, white and green.